A PIONEER OF E-MOBILITY
DR. GÜNTHER SCHUH IS THE FIRST RECIPIENT OF THE NICOLAUS AUGUST OTTO AWARD. WITH THIS AWARD, DEUTZ AG HONORS A MAN WHO HAS RENDERED OUTSTANDING SERVICES TO INNOVATION AS A TRUE PIONEER OF ELECTRONICS. WITH A SPIRIT OF INNOVATION AND COMMITMENT, THE GRADUATE ENGINEER HAS MADE A SIGNIFICANT CONTRIBUTION TO THE ELECTRIFICATION OF DRIVE TECHNOLOGY IN GERMANY.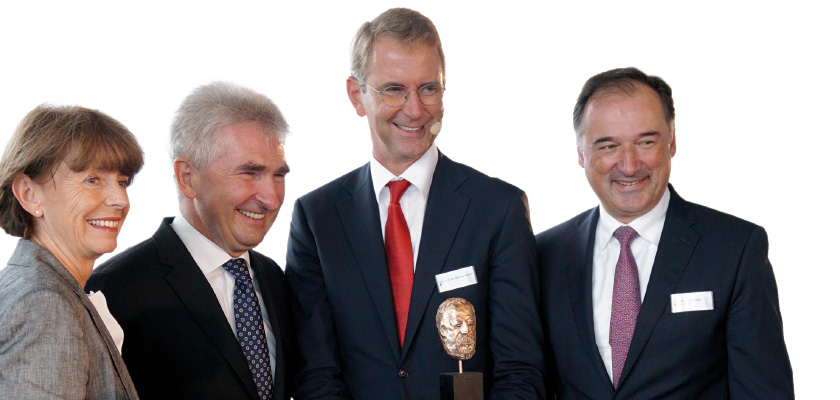 Dr. Schuh, you are the first recipient of the Nicolaus August Otto Award. What does this award mean to you?
Dr. Schuh: I consider this an incredible honor for my team and me. I am being honored for my life's work, which is not finished yet. In this respect, it was also a big risk for the jury – who knows what else will happen. The comparison with Nicolaus August Otto is very ambitious. Nevertheless, I am very happy.
What major challenges does e-mobility currently face?
Dr. Schuh: It is not so hard to design an e-car anymore, but it is very hard to design an affordable e-car. Even if we get better at it in the future, customers will still have to become much more innovative. In other words, they have to change their vehicle usage somewhat and accept a slightly higher purchase price. They should want to be the first to have an e-car in the neighborhood instead of waiting to see how their neighbors respond to electric vehicle purchases.
Where do you see the greatest potential?
Dr. Schuh: We must emphasize the attributes of electromobility that motivate people to buy combustion vehicles as well. Driving an electric car is also a lot of fun. That is the message we have to get across so that typical new car buyers choose electric cars or plug-in hybrids. Because the plug-in hybrid is not just an interim solution – it is the future. In rebate-oriented Germany, an increased eco-rebate is of course very helpful.
How do you foresee the development over the next few years?
Dr. Schuh: If, for some reason, the demand for e-cars only increases slowly, I hope that this time the car manufacturers will maintain their supply of e-cars, or rather expand it and give the market some time to catch up.
The Mayor of Cologne, Henriette Reker, also praised the innovative spirit of the award winner.

Some of his students accompanied the laureate to Cologne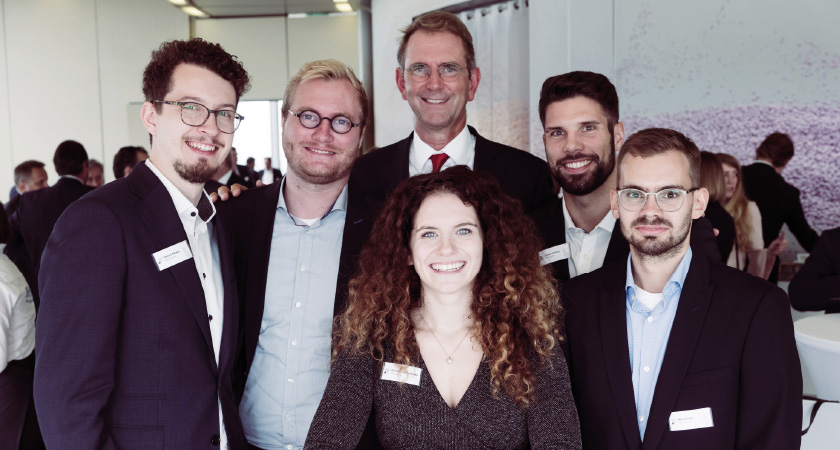 DR. GÜNTHER SCHUH
As co-founder of the electric vehicle manufacturer StreetScooter and managing director of the electric vehicle manufacturer e.GO Mobile AG, Dr. Schuh is pursuing the ambitious goal of making this drive technology accessible to the general public. By demonstrating that affordable electromobility works with today's battery technology, he makes a decisive contribution to emission-free mobility in inner cities and thus to a more energy- efficient future. Günther Schuh is taking this approach unerringly and with great strides. In addition to electric cars, he will also design minibuses in the future in cooperation with automotive supplier ZF Friedrichshafen AG – an airplane is also already in the planning stage.