Say goodbye to manuals
FASTER RESPONSE, LESS DOWNTIME, LOWER COSTS: HOW DEUTZ OPTIMIZES ITS SERVICE WITH DIGITAL TOOLS.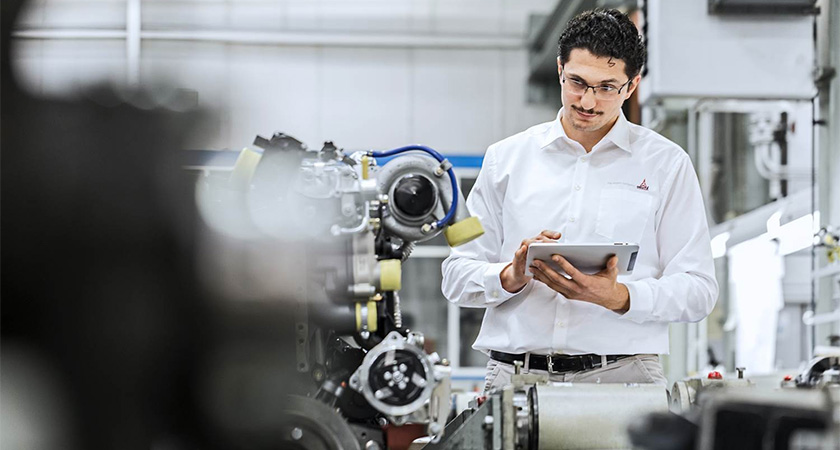 If the engine does not run as intended, a look at the tablet will help. It provides the technicians with a three-dimensional overview of the most important components of the drive and also provides an initial orientation for correcting the error. Does the belt drive require maintenance? Is there enough coolant? Or is it time to change the lubricating oil or the corresponding filter?
Actually, the V-belt is worn out and needs to be replaced. With a few more clicks on the tablet, the correct spare part can be ordered in no time at all. And instead of having to struggle reading through up to 500 pages of workshop manuals, the mechanic can quickly and easily view all the relevant work steps in a compact video or step-by-step instructions.
Workflows for mechanics can be significantly streamlined, response times significantly increased and performance improved. As demonstrated at the bauma construction machinery trade show in April 2019, the new Augmented Reality application DEUTZ Live Repair delivers this – the service of the future.
"The use of state-of-the-art hardware and software systems in service offers enormous potential for all customer groups," confirms Andreas Schmidt, Senior Vice President, Central Service at DEUTZ. "All beneficiaries are involved in the value chain from machine manufacturers and service partners to workshops and fleet operators, all the way to end customers."
The goal is clear: All customer groups – from manufacturers to operators – must receive an outstanding customer service experience. DEUTZ will ensure best-in-class parts availability, expand its global service network with new partners and grow its own service centers, in addition to continuously expanding its range of service solutions. In the meantime, "analog" products such as extended warranties, extended oil change intervals and repair kits tailored precisely to the engine, are becoming increasingly important, as are other digital services. From online documentation of engine and service information, or transmission of engine data and the associated derivation of preventive service measures, to management of entire machine fleets, the range of digital after-sales services is enormous and will continue to grow.
"By improving usability, DEUTZ helps our customers to reduce downtime and better manage maintenance and repair costs," says Dr. Matthias Szupories, SVP Central Sales & Marketing at DEUTZ. "Confirmed work is automatically transmitted to the engine history and is then available to the user at any time."